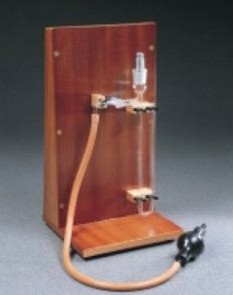 PP 27-1268 AIR PERMEABILITY OF PORLAND CEMENT BY FINENESS DEVICE
Cement Equipment

ASTM C-204 / AASHTO T-153 For determining fineness of porland cements by air permeability. The unit offered are supplied complete with stainless cell, perforated disc and plunger. A manometer U-tube, papers are supplied with the apparatus.
Dimensions (l x w x h)

30 x 25 x 70 cm

Gross Weight

10 kg
Consists Of:
U-Tube Manometer, Glass tubing with valve.
Permeability Cell, Stainless steel.
Perforated Disc, Non corroding metal.
Plunger, Stainless steel.
Stock Solution, Dibutylphtalate.
Filter Paper, Type 1, grade B.
Back to List
|
Add to cart